Early beginnings
I have had a love affair with jewellery since I was a little girl. My first adventures in design took the form of shell bracelets, strung on hat elastic, during family holidays in Cornwall when I was about seven or eight years old.
At fourteen, my appreciation of jewellery was transformed. My exotic American aunt invited me to help myself from her jewellery collection: she herself resolved to wear "just diamonds".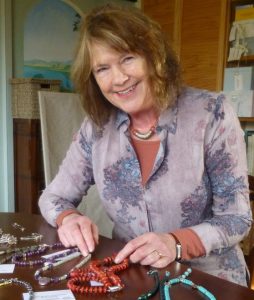 From among her treasures I chose some Chinese jade, lapis lazuli, and the most exquisite cameo with a chain crafted from delicate gold leaves.  All of them had been discovered by my uncle on his travels around the world as a ship's doctor on the Cunard line.
From then on, I began my own collection, searching for pieces wherever I went.
After leaving school I wanted to study jewellery and fashion at art college but was persuaded to read something more 'academic' instead. My career then took me in a very different direction – research and teaching – but I never lost my love of jewellery.
---
A growing passion
2008 was a 'significant' birthday and I received two wonderful gifts: from Jane, a fabulous necklace designed and made especially for me and, from Rosi, a beautiful amazonite pendant.Rather than wear the pendant on a silver chain, I paired it with some amazonite rondelles discovered in Hatton Garden, to make a complete necklace. I consider this my first Elizabeth Sadler Jewellery creation.
These gifts made me realise how exciting it is to have a unique, bespoke piece, and I have not looked back since.
My work and curiosity have taken me to many different parts of the world where I have been fortunate to discover a fantastic assortment of gems. I have collected and curated pieces that might take over ten years to come together in perfect combination, sometimes with elements from opposite sides of the globe.